Golf At Williston is a Great Value. So is Shopping in our Award Winning Golf Shop!

"I purchased my new Titleist driver at Williston. Todd's price was $60 lower than anyone else.
With the money I saved I bought round of golf and a dozen balls. Now that's Value!"
- Chris Henry, The Medical Store, S. Burlington, VT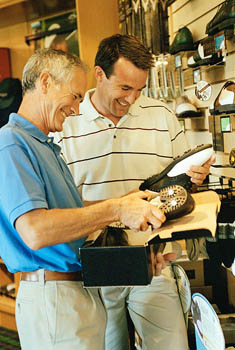 Our Golf Shop, Staffed with PGA Professionals was awarded the Vermont PGA Merchandiser of the Year in 2006. This means that you can count on a great selection of clubs, apparel and golf novelty items. Our pricing policy is very aggressive and golfers find that prices are the lowest in the area and lower than online and catalog dealers.
We have something for everyone and if we don't have an item in stock, we will express order it for you - and you don't have to pay those inflated shipping charges. Our shipping is free.
We take trade-in's or will sell your old clubs on consignment!

Ask us what your clubs are worth, we will be happy to take your old clubs and give you a credit towards the purchase of any merchandise that you may have your eyes on! We can also sell your clubs on consignment!! Get rid of those old clubs that don't work for you anymore, upgrade to the latest technology and save while you are at it!!
Call us at (802) 878-3747 for the very best pricing
Our prices are too low to advertise………..